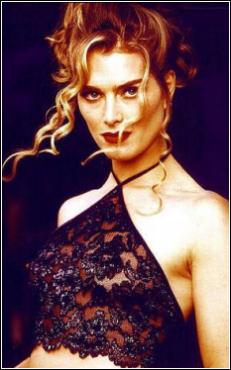 Full Name
Christa Brooke Shields
Height
6'
Occupation
Acctress & Model
Birthday
May 31, 1965
Birth place
New York City
Parents
Father - Frank Shields (Revlon executive)
Mother - Teri Shields (Personal manager; Formerly a model)
Grand Father
Francis X Shields (Former professional tennis player)
Marital Status
Chris Henchy (4 April 2001 - present)
Andre Agassi (19 April 1997 - 9 April 1999)
Born May 31, 1965, in New York City, to Terri and Frank Shields. Her father was a Revlon executive and her mother a model. Shields has been in the public eye from the very beginning, as she appeared in an Ivory Snow advertisement when she was a mere 11 months old.
In 1978, Shields made her film debut in Louis Malle's Pretty Baby and followed it up with high-profile roles in The Blue Lagoon (1980) and Endless Love (1981). Meanwhile, Shields caused a sensation with her advertisements for Calvin Klein jeans, in which she claimed that nothing came between her and her Calvins. Shields also endorsed Breck shampoo, Colgate toothpaste, and Band Aids.
Critics who claimed that Shields was more celebrity than actress were delighted when she flopped in Sahara (1983) and Brenda Starr (1989). Shields cut back on her acting to attend Princeton University in New Jersey and graduated in 1988. However, she couldn't totally resist the spotlight and wrote a much-publicized autobiography, On Your Own.
Shields starred in a string of unmemorable TV-movies following college, before landing the title role in Suddenly Susan in 1996. With a great time slot between Seinfeld and ER, the show achieved moderate success and was later moved to Monday nights, where it began to struggle in the ratings. It was eventually cancelled in late 1999. Shields' career remained on track, however, with starring roles in several independent films, including James Toback's Black and White (2000), co-starring Robert Downey Jr.
Previously linked romantically to Michael Jackson, Liam Neeson, Prince Albert of Monaco, and Michael Bolton, Shields married tennis star Andre Agassi in April 1997. The two were separated less than two years later, and the marriage ended in divorce. In July 2000, Shields became engaged to ex-Suddenly Susan writer Chris Henchy. The couple were married in April 2001 in Southern California.